Petworth Park, Upperton, River Lodge Farm and back through the park: 10 November 2021
Walk Leader: Christine Tully
Distance: 9 Miles
Start: 10:00am at Petworth Park NT CP GR: SU966 238
Lovely views, deer, and autumn colours are the highlights of the walk in November around Petworth Park and into the surrounding countryside. With a forecast of clouds and possible drizzle, we Petersfield Ramblers, were delighted to have good visibility for most of the walk and to stay dry.
Petworth Park is a 700-acre deer park designed by Capability Brown. As we walked round the park from the north car park, we saw many herds of deer. Males with large antlers were guarding their herds of females. We didn't see any deer rutting however. But the park has many other delights. There are two ponds with wild fowl and lovely views looking east over the weald. We had our coffee break on a small hill in the park with such views and some of the trees had lovely colours.
We left the park through a gate in the west wall, leading to the hamlet of Upperton, which is situated up a hill to the north of Tillington. From there we took a lane towards Pitshill House and walked southwards along a boundary path on the east of its estate which afforded lovely views of both the house and the grounds.
Our next lovely views were of the South Downs as we took a lane westward towards the hamlet of River. Approaching River we had westerly views, overlooking the valley of the River Lod to Lodsworth and Bexley Hill, on the other side of the valley.
The River Lod is a short river whose source is on Marley Heights near Haslemere and which eventually joins the River Rother at Lods Bridge south of Halfway Bridge. In the past, this river was of considerable economic importance, powering Lurgashall mill and also the bellows for blast furnace where iron cannon was cast during the civil war.
Descending through the hamlet to the River Lod, we then took footpaths across fields towards Lodge Farm. The fields are bounded by trees, some of which had lovely autumn colours. From Lodge Farm we turned north through fields with views towards the scarp on which Pitshill House is situated. From these fields one can take the Serpents Trail which leads up the scarp back to the boundary of Petworth Park. But we chose a path further west which goes up the boundary of Pitshill House. This is so we could take a beautiful ridge path which gives views to the north, towards Blackdown. However, at this point of our walk we had reduced visibility, though the path through the trees is delightful. This ridge path leads to the boundary of Petworth Park and we retraced our steps through Upperton, back to the park, from where we took the direct route round the north of the park to our cars.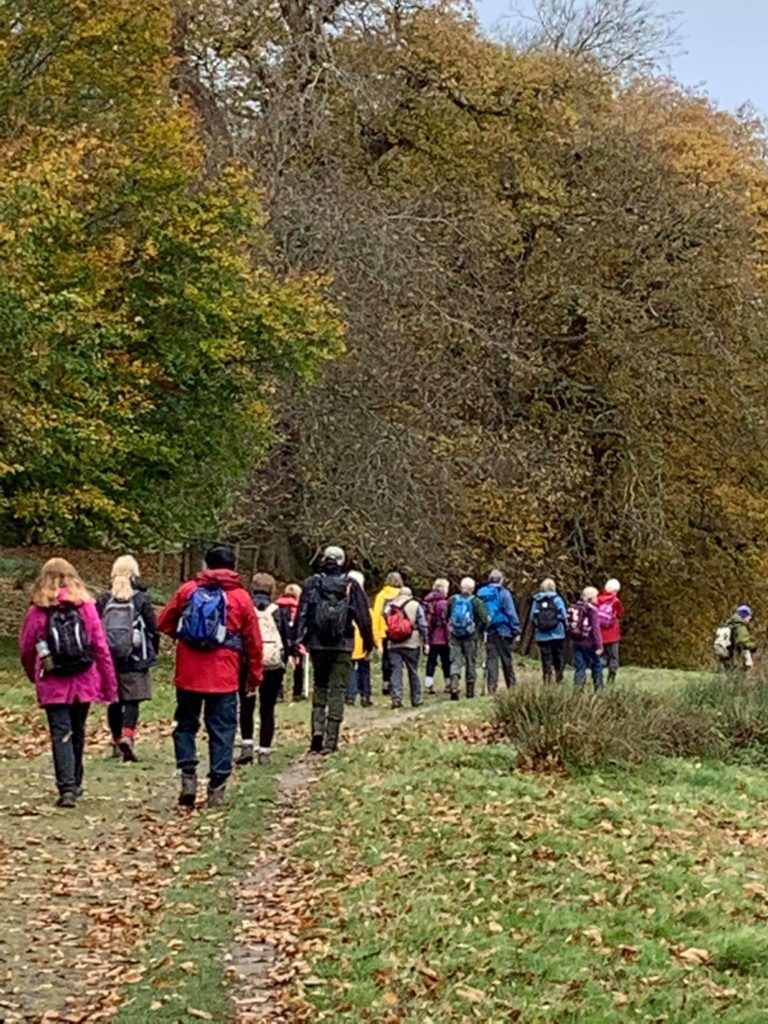 Author: Christine Tully
Photographs: Rose & Paul