Date:               21 September 2022
Walk Leader: Val Wood
Distance:         8-9 Miles
Start:               10.45am at Alresford Railway Station
Watercress Wander
On a beautiful sunny early autumn morning, some 21 ramblers, including two guests, gathered at the Watercress Line car park for start of our linear walk.  First to get to our start point – which turned out slightly more problematic than it should have. We walk the short distance down Station Road to West Street ready to catch 11.05 Winchester to Alton bus.  However, expected bus is late, then later.… and by 11.25 or so has still not appeared.  We converse with a regular local bus-user who has consulted her "App".  Because of a driver shortage the bus should arrive at 11.37.  Eventually it appears a few minutes after that. Fortunately, it's a double-decker or some of our number may have been standing for the short journey to Four Marks.  Alighting at the Hazel Road stop, we walk the short distance to the station, crossing over the bridge, and are ready at last to begin our ramble proper.   
Leaving Four Marks station we head north-west along a track, turning left onto Five Ash Road for about 10minutes before taking footpath right in a north-west direction skirting Medstead village.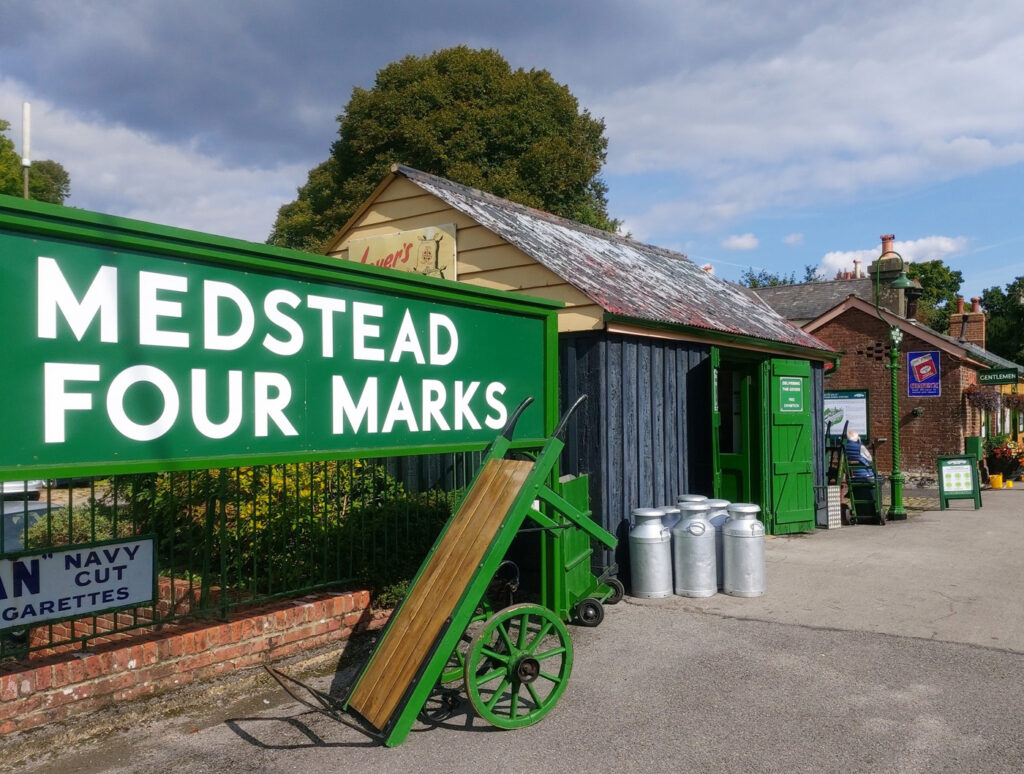 Walking westward we're eventually rewarded with splendid views south towards to the South Downs, identifying unmistakable Cheesefoot Head on the ridge before us. Next, we turn south-west past Hattingley Valley Vineyard.  We walk through some of the vineyards and can't resist a taste of the tempting ripening white grapes which are sweet and delicious.  Hattingley Valley is one of many vineyards that continue to be established all over the south, and now even further north in the country.  Climate change and increased knowledge of where grapes will thrive have encouraged landowners to invest considerable sums of money in a product that often takes up to 7/8 years to come to fruition and begin a return.  We are almost spoilt for choice in our region with many vineyards to visit and sample their wines.
We cross Chalky Hill Lane and continue on to the Oxdrove Way, a bridleway that takes us southwest to Old Alresford where the end of our walk brings us back alongside the famous watercress beds and beautiful riverside paths.  We pass the old Fulling Mill, now a pretty private house. The building dates from the 13th century and was saved from dereliction in about 1951.  The fulling of cloth was a method used to tighten and shrink cloth into a closely woven product. In early times the pressing and kneading was done by human feet, in shallow streams, using fullers earth. In due course water power took over and the mills became known as Fulling Mills.
Our walk has taken us on varied paths and bridle ways, through stands of woodland, copse and across typically wide expanses of undulating Hampshire agricultural countryside.  Now looking a little greener and less parched, after some recent rain.  We
spotted numerous red kites circling determinedly over a tractor busy harrowing a field, a buzzard, hare and most odd looking fungus structure growing in the earth beside the Oxdrove bridle way. 
Alresford is a delightful and attractive town.  First founded in the 13th century and making its fortune in the wool trade, more recent industry saw the commencement of water cress production in the 1860's.  Much of the pleasing old buildings in the main streets are a result of rebuilding in the 18th century after two great fires.  It's now home to many thriving independent shops, boutiques and café's along with various hostelries.  Because of our tardy return to the town, we had little chance to browse around its attractions – a trip for another day. 
A fascinating history of the Watercress Line can be found on their website.
Author: Val Wood, Programme Organiser
Photography: Sandy Arpino and Rose Field