This season's final 2 days of the Coast to Coast adventures of our 4 Fearless Petersfield Ramblers. A 2nd season is being planned!
Day 6: 26 June 2021

The weather yesterday, (Day 5) was so bad that the decision was made to delay walking by a day. Rain was lashing down, strong winds and low cloud. We didn't like the idea of the local newspaper having a headline of 'Pensioners needed rescuing from the fells', so we visited Keswick instead and walked the 6.5 miles back along a disused railway line.

Today we set out in high spirits. All of our training is paying off as we are getting fitter and stronger each day. The climbs are still tough but we are becoming increasingly confident in our walking through such difficult terrain.

The route out of Grasmere was straight into a long climb up by the side of Great Tongue and on up to Grisedale Tarn. On our way we were expertly passed by a young couple carrying their 8-month-old baby in a back pack. All seemed to be thoroughly enjoying their walk as they left us in their wake.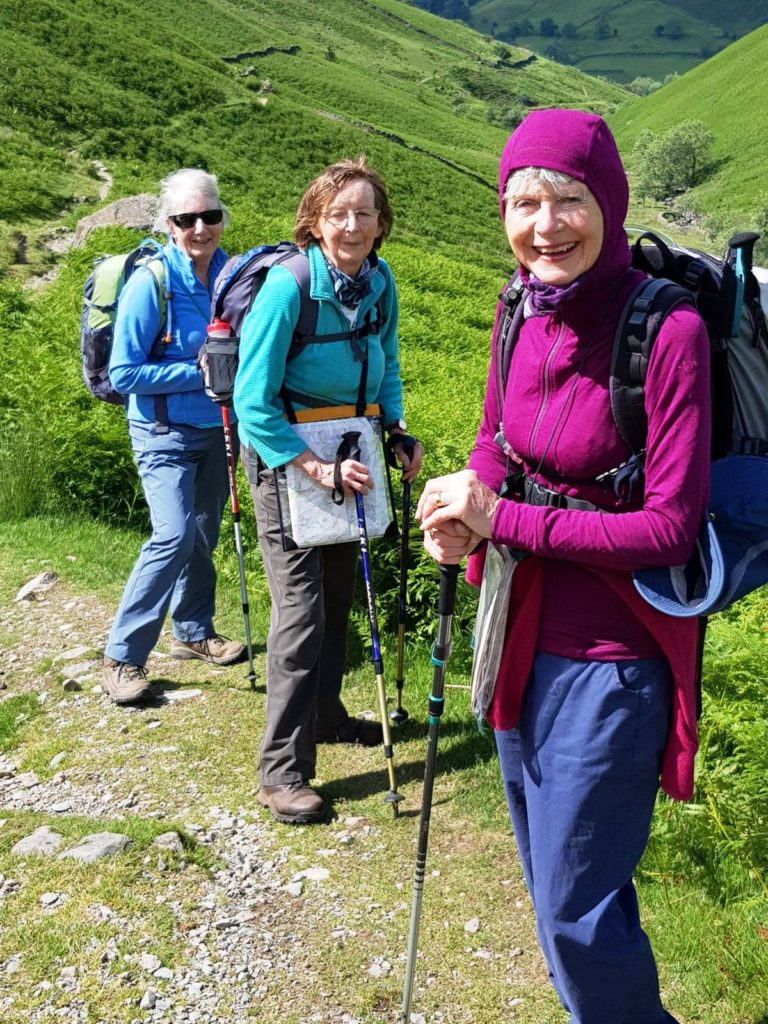 As we climbed higher the temperature dropped, the wind speed increased and the low cloud got lower. Nevertheless, we were able to see Grisedale Tarn when we reached it and then able to find our way towards Ruthwaite Lodge. The descent was made slightly more difficult due to the amount of water pouring down the hillside after yesterday's rain. The path led ever downwards past long stretches of dry-stone walls, running up onto the high fells. The man hours that it must have taken to build them is staggering as well as the difficulty involved.

Eventually we reached Patterdale and that welcoming cup of tea at the local hotel, not to mention the scones and jam! Tomorrow brings us our greatest challenge of two long climbs and almost 13 miles of walking, but we are walking fit now and looking forward to conquering new heights.

Day 7: 27 June 2021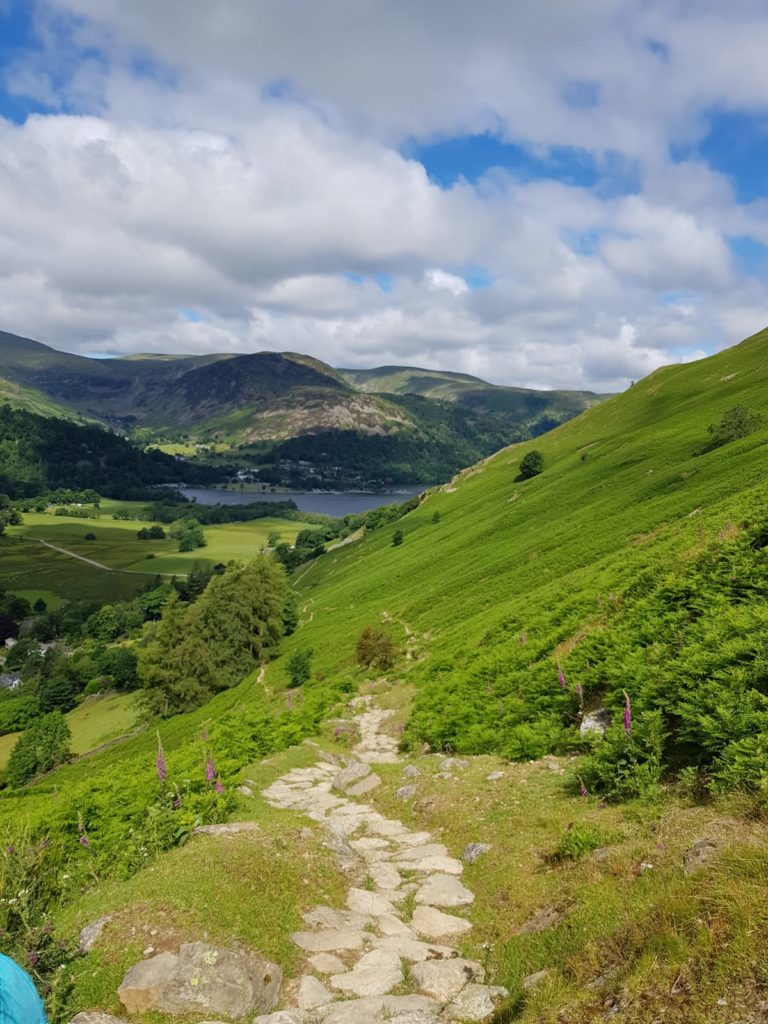 This was the day we had earmarked as being the toughest of this stage. Over 12 miles, 3400 ft of elevation and difficult terrain. Setting off from Patterdale we began walking along uphill path, meeting on the way a group of women descending. They had wild camped next to Angle Tarn, had an early morning swim and were on their way back down. The path continued in its relentless uphill trend giving us fantastic views back down the hillside.

On reaching Angle Tarn we stopped for our morning break, enjoying our nourishment while captivated by the view. No time for too long a rest, there was more climbing to do, on and on, up and up, on stony paths. Eventually after three and a half hours of climbing we reached Kidsty Pike. Gratefully we sank down onto the rocks to eat a late lunch. As we did so we realised there was a long drop down into the valley close to where we were sitting, we were all very careful not to get too close.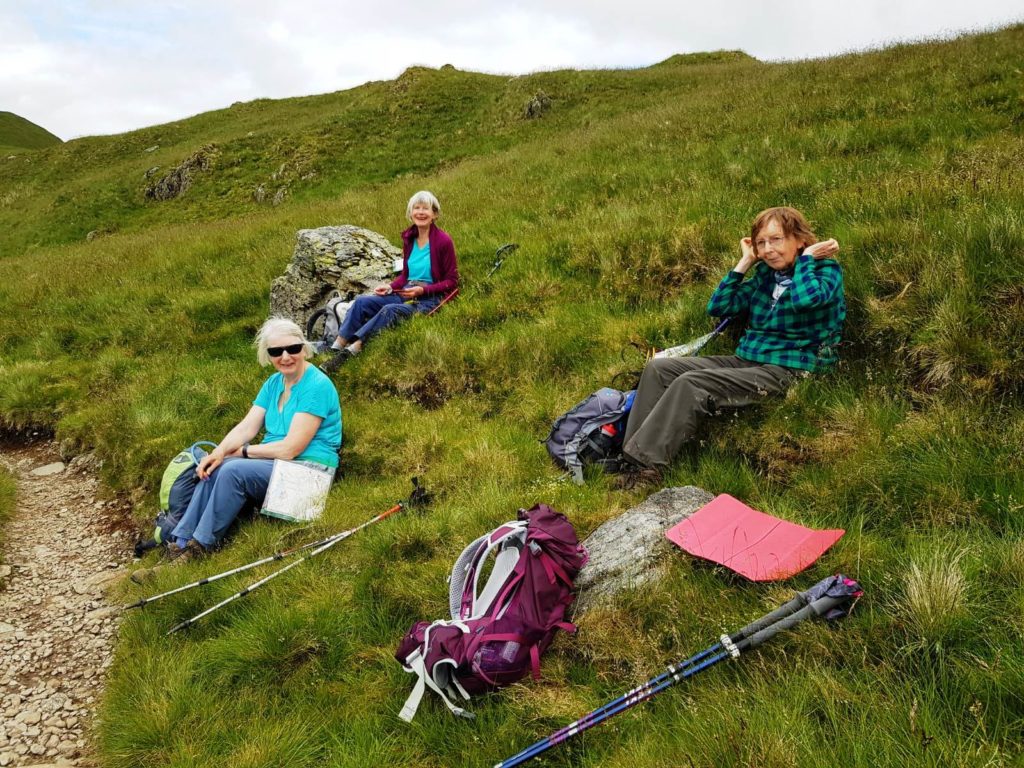 Leaving the wonderful vistas behind us we began our descent. At first it was a gentle walk down grass covered slopes but then it changed dramatically. Dropping away quickly the path zigzagged sharply down hill with rocks and stones all the way. We necessarily took our time, one wrong step could have seen us tumbling down or injuring an ankle. Slowly we lost height and gratefully descended the last yards through steep, slippery, grass covered hillsides.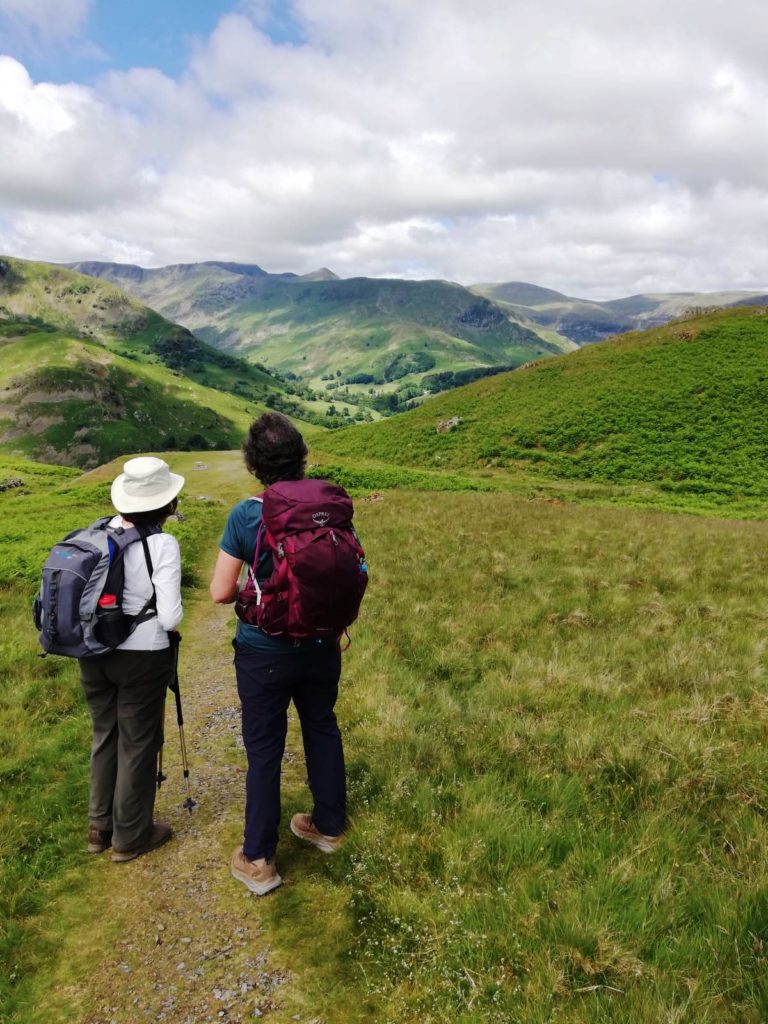 What a delight to be down. Only 5 miles to our destination along the shores of Haweswater Reservoir. We felt that at last we could pick up our pace and finish this leg of the walk. It was not to be. The path wound its way up and down along the edge of the reservoir, gaining height along stony, rocky paths only to plunge down again to the lake side. With energy at a low ebb we stopped for a quick bite to eat to revive the spirits. With blood sugar levels raised we continued to the end of the reservoir and our lift back to the hotel. Four weary, but very happy ramblers.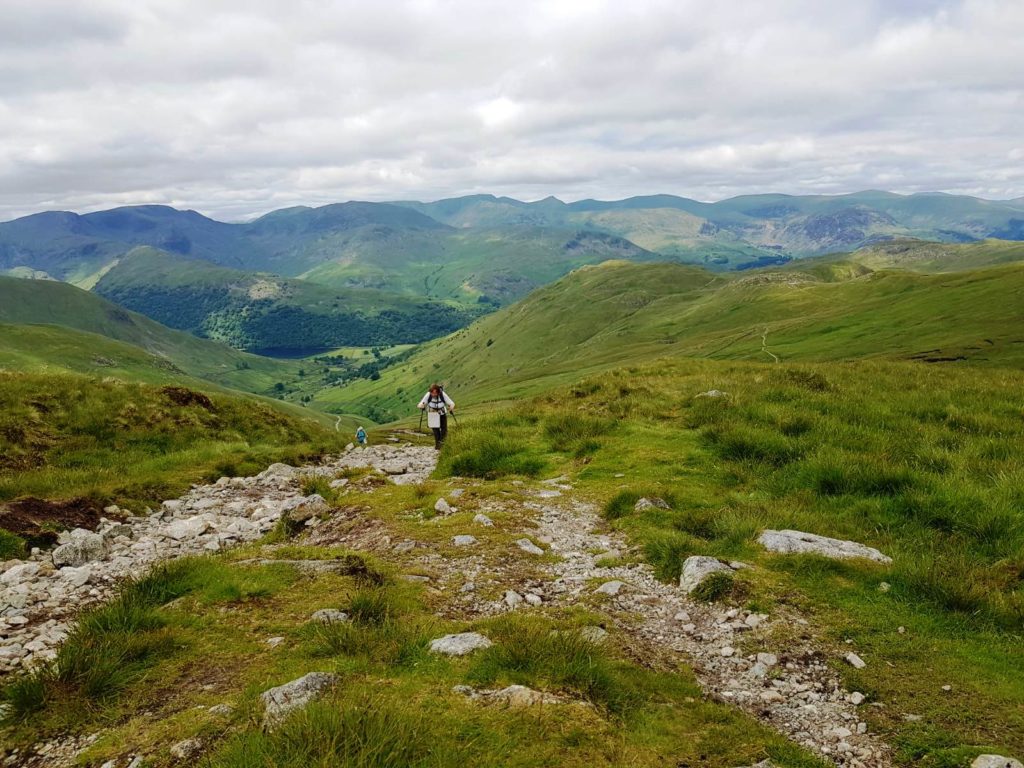 This then, has ended this stage of our Coast to Coast expedition. Stage 2 is planned for September.
It must be noted that without the wonderful support of Rob, Bob and Alan we would not have accomplished our walks. They uncomplainingly ferried us around, collected us, moved everything on to the next accommodation and listened to us talking about our exploits. Thank you.
Lynne