Date:                           May 2023
Walk Leader:          Christine Tully
Distance:                   8 miles approx
Start:                           10:00 am Festival Hall CP
A Local Spring Walk
We are very blessed in Petersfield to be surrounded by beautiful countryside, lovely for walking at any time of the year.  However, in certain seasons there are additional features, such as spring flowers.  The route of this local walk is chosen in May for bluebells and new life on the pond!
Starting from the Festival Hall car park, we walked round Petersfield Pond and were rewarded with the sight of goslings and other hatchlings.  The swan was standing by the nest and so we were able to get a view of the eggs (from a safe distance!).  It is good that the temporary fence protects this nest from intruders!  Then on a large log in the pond we saw four terrapins.
From there we walked through the heath, along Durford Road, and on paths towards Durford Abbey Farm.  It had been raining frequently. So the paths were somewhat muddy and the River Rother was in full flow!
Durford Abbey was established about 1161 on the northern bank of the Rother, in the parish of Rogate, by Henry Hussey, lord of the neighbouring manor of Harting.  The monastery was dedicated to the Blessed Virgin Mary and Saint John the Baptist.  It was dissolved around 1536 and is now a farm.
We then walked up the road towards Durleigh Marsh, noted for its horticulture.  One of our group made a quick purchase in the farm shop before re-joining us.  We took a path eastwards and then northwards towards Carrols.  There were some bluebells in the hedgerows.  From there we took the westward path towards Sheet Common.  We had lovely views of the South Downs and glorious views of bluebells, especially in the bluebell wood near Barns House.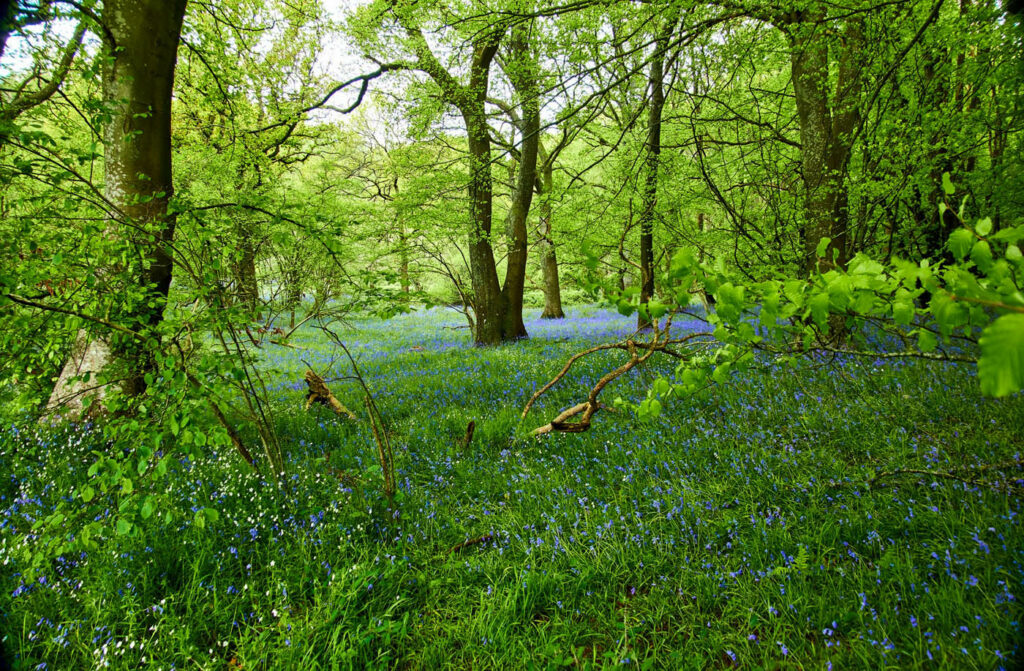 We could see dark clouds forming and were aware from the weather forecast that we might have to cut the walk short.  We had our picnic lunch on Sheet Common, and just as we were finishing, the clouds opened.  There was torrential rain.  The ramblers hastily bade farewell and dashed home as quickly as they could!
Had we been able to complete the walk, we had planned to walk northwards up Mill Lane Sheet to the mill, across the fields to Burntash Farm, and on to the road. From there a path goes down to Kettlebrook Cottages, up to the Harrow Inn, and from Steep the Hangers Way goes down to Tilmore Road.
We hope to complete the walk in the future years!
Author: Christine Tully
Photographer: Jeremy Bacon