Date:               7 June 2023
Distance:         5, 7 or 10 Miles
Start:               Ryde bus station at 10.50am
CLUB ANNUAL DAY OUT
TO THE ISLE OF WIGHT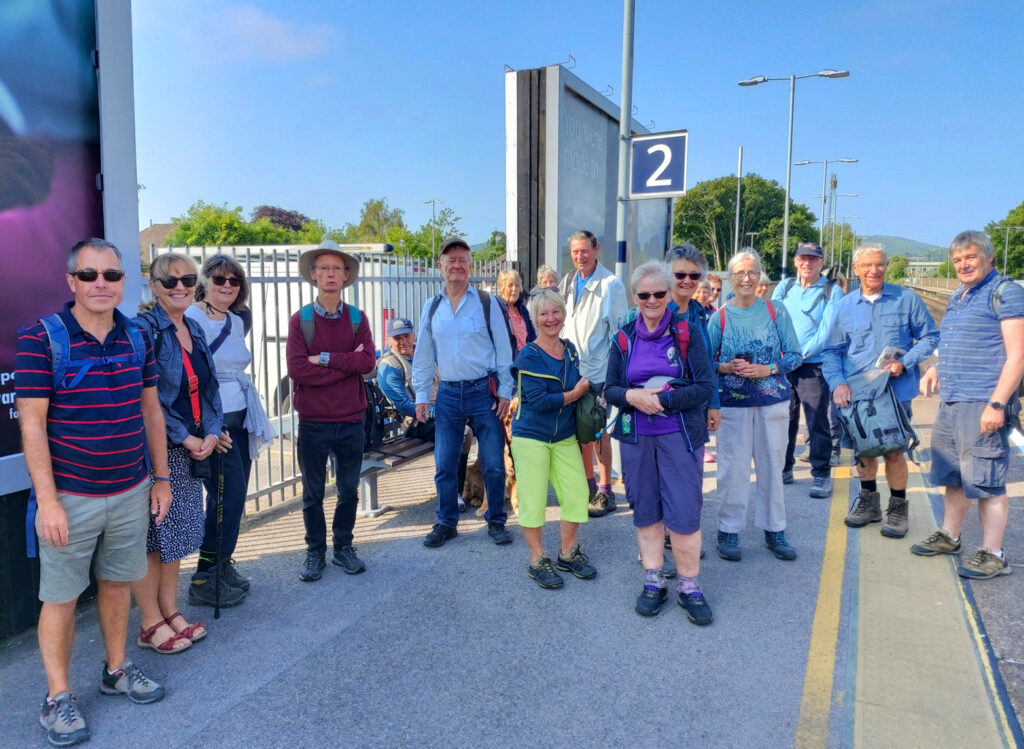 Twenty members of the Petersfield Ramblers, complete with Pickle the Labrador, travelled to the Isle of Wight to enjoy a day out. It was an easy journey; train to Portsmouth then straight on to the ferry, using our 'Ticket to Ryde'. The first walk was the length of Ryde pier to the bus station – seemed about ½ mile to me but no problem as we were enjoying the glorious sunshine and looking at the sea.   Then we split into 3 groups for a choice of a 5-mile walk, a 7 miler, and a 10 miler.
The short walk was along the coast to Quarr Abbey which is a magnificent edifice and is home to a small group of monks. It was founded in 1132 and was populated by monks from Normandy. It's set in a lovely natural environment, has some gardens and a lovely tea shop. Well worth a visit.
A larger group of us got the no 3 bus to Brading where the 7-milers went in one direction and us longer walkers found our way through some streets and on to Brading marshes which, being June, was a mass of wildflowers. The colours were stunning – ox-eye daisies, buttercups, clover, vetch, birds-foot trefoil, and some we couldn't identify. Looming above us to the south was the monument on Bembridge Down and ahead of us was the National Trust Bembridge Windmill which we walked past, and at which some lingered for an ice cream!
We moved on to Bembridge Harbour and admired the boats while we stopped to eat our lunch, after which we walked a narrow causeway across the water. Further along we came to a beach with a large shop and eating area at which I've heard crab sandwiches were to be had, but we'd just had our lunch so didn't partake.  After a little trudge along a sandy beach where some people were swimming, and some were roasting themselves in the sunshine – hardly wise for some who were obviously burning and looking like lobsters – we entered woodland.
And that's where things became challenging. We think there had been some sort of landfall because we had to re-route ourselves, turn back, scramble over tree roots, take huge steps down, walk down ladders, not my favourite part of the walk by any means! Lovely views through the trees to the water though. However, we finally landed on a beach then found a hard footpath which took us back to Ryde.  Along this path we came to the very attractive village of Seaview where we stopped for tea or ice creams, admiring the view across the Solent to the Spinnaker Tower and surrounding area.
A spectacular day arranged by Lynne who managed to arrange all this without reccing anything in advance. When all were gathered about 5pm there was a treat of Tony's Fish 'n' chips. A fitting end to a spectacular day.
Author: Sheila Gadd
Photographs: Sandy Arpino, Jo Legg & Rosemary Field