Walking the Peddars Way through autumn colours in rural Norfolk
Having taken on the challenge of Offa's Dyke trail in the heat of summer – hiking alone – walking Peddars Way couldn't have been more of a contrast – flat, cool and in company. It was these differences that I relished, though much depended on the weather in late October and how well our trio of ramblers got along. As it turned out, meteorology was largely on our side and my companions definitely enriched the experience.
Peddars Way is the first part of the combined National Trail 'Peddars Way and Norfolk Coast Path' which extends for 130 miles. Our plan for 2022 was to complete the 46 miles of the Peddars Way in 4 days, returning in 2023 to undertake the Norfolk Coast Path. Peddars Way starts just inside Suffolk at Knettishall Heath Country Park – following a very straight Roman road for 46 miles to Holme-next-the-Sea on the north Norfolk coast.
Our decision to use Contours Holidays to arrange our accommodation and baggage transfers proved to be a good one, as logistics worked seamlessly throughout, and overnight lodgings were well placed. As always we elected to carry only day packs, to make the walking more enjoyable.
I'd walked many times over the past 2 years with my fellow travellers from Petersfield Ramblers, Lynne and Helen, so felt reasonably confident that we'd get along well together (though you can never be sure on long-distance routes!) – and both had previous experience of National Trails which boded well.
So we set off in late-October by train to Thetford, the nearest town to the start of our trail. After a smooth journey, we embarked on a brief explore of Thetford; notable were all the flint buildings, reminiscent of our home landscape – a reminder that much of Norfolk is underlaid with chalk.   In the morning a prompt taxi picked us up at 9am for the 6 mile journey to the trail start: a car park pretty much in the middle of nowhere! We set off at a good pace, in cheerful spirits – due north – mindful that our next accommodation was 15 miles away.
For much of the first day the sandy soils supported primarily Scots pine with interspersed silver birch. For a while we traipsed through boggy terrain, often on welcome boardwalks, hidden by tall rushes. Then oaks and beech – in dazzling autumn shades – began to make an appearance as we progressed into chalkier areas.  
On our left-hand side for mile upon mile lay military ground, bordered by barbed-wire fencing and 'Keep Out' signs. These ranges were acquired during World War II, uprooting whole villages, and have remained as active training grounds ever since. Indeed, we heard frequent booms throughout the day.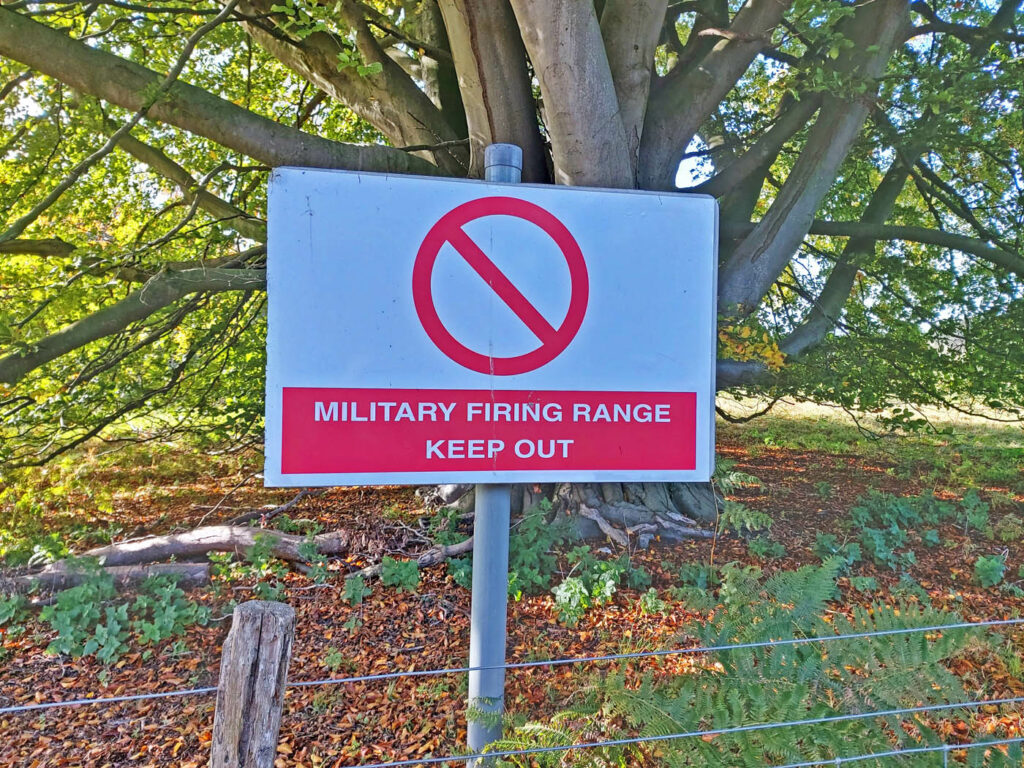 It wasn't long before we encountered the first of many huge pig farms that peppered our route. It was lovely to see the big pink bodies – ears shading eyes – roaming freely, appearing content in their muddy world. Less appealing were the countless sheds that we assumed were full of growing poultry. Thankfully, both pigs and poultry were largely odour-free.
The farming theme continued as the military land gave way to huge arable fields. Tractors ploughed and tilled the rich soils, followed by flocks of seagulls. We quickly identified sugar beet as the primary crop.
Our day ended in Little Cressingham, the first village for 15 miles – and even this was just a few houses strung out along a minor road. Our overnight at Phoenix House was perfect: lovely rooms, friendly hosts and a welcome tray of tea and coffees.
After the unusually sunny start to our walk, we woke up to rain, with wet forecast until mid-afternoon. Our route for the day (16 miles) appeared to be largely on minor roads which, though rather uninspiring, were perfect for the climatic conditions. So we donned waterproofs, put our heads down, and strode forward through the rainfall.
By 11 0'clock we'd reached North Pickenham, a small village with a church. Experience has taught us that – in the absence of any other shelter – church porches are a useful option for a coffee stop. So, dripping wet, we settled ourselves down for a short respite from the downpours. As chance would have it, it was Sunday and people began to arrive for a service! Rather than making us feel uncomfortable, the very kind parishioners couldn't have been more welcoming, even inviting us to use of their toilet facilities – an offer much appreciated.
Two hours later we chanced upon a remote McDonalds as we crossed the busy A47. Another timely opportunity to take refuge from the rain while enjoying purchased cups of coffee and clean restrooms.
As promised, the relentless showers abated late in the afternoon, though by then we'd been damp under our waterproofs for some time. (Even the best waterproofs only withstand constant rain for a few hours before starting to leak) By this time we'd reached Castle Acre, close to our final destination for the day. This fair-sized village is no doubt an interesting place with its ruined priory and castle, but its appeal was largely lost on our damp souls. To be warm and dry were by then our only concerns.    
Day three demanded a further 16 miles of walking and, though we departed our overnight lodgings with gloomy skies above, the weather quickly improved, offering sun and blue skies by the afternoon.
Our path – still ruler straight and northward – passed through mile after mile of flat arable land, punctuated only by occasional pig farms and grain stores, and glimpses of tiny villages in the distance. Early surprises were a concrete trig point – at 300ft the lowest one we'd ever seen – and a herd of inquisitive highland cattle!   
But the real delight of the day was the autumn colours and fruits. Autumn had leapt out at us all along Peddars Way, from the patches of woodland to the perpetual deep, rich hedgerows that lined our track. Huge beeches and oaks dazzled in golden shades. Ashes – here not yet damaged by dieback – shimmered less ostentatiously in yellow. Like children we kicked through densely fallen leaves and crunched down on carpets of acorns and sweet chestnuts.
The hedgerow fruits were of an abundance rarely if ever seen before: hawthorn berries, rosehips, sloes, and unnaturally pink spindle berries splitting to reveal brilliant orange seeds.
We wondered at the number of large oak trees, diameters clearly showing them to be hundreds of years old. And we pondered at the low density of human residents amongst the vast farmlands.
High in the skies were parallel vapour trails of aircraft, identifiable as military fighters by the tone of their engines and their speed. We assumed there must be a training base nearby. Down on the ground our ears were assailed by the noisy squawks of startled pheasants.
After a comfortable overnight in Sedgeford, we set forth on our fourth and final day at a more leisurely pace, conscious that only 8 miles of walking were required before reaching our final destination, Hunstanton.
After a mile we encountered an impressive 17th century building with a fascinating history: Magazine Cottage. Apparently magazine buildings – used to store gunpowder for military or engineering purposes – are dotted across Britain. From here we progressed northwards to Ringstead with its flint church and sail-less windmill, inching ever nearer to the sea. Finally we reached sand-dunes and an extensive flat area of damp sand leading to water. The tide was out.
Following the beach westwards for a couple of miles, clambering over tide-breakers, we came to Hunstanton and a welcome cuppa with cake. Our journey along Peddars Way was complete.
Next year we'll continue from Hunstanton around the Norfolk coast, to explore very different landscapes dominated by the sea.
Author & Photographer: Sandy Arpino