Date:                      5 April 2023
Walk Leader:      Val Wood
Distance:               11 miles
Start:                      10:00 am Elsted Church CP GR: SU 816 197
South Downs Way Circuit from Elsted
At last, after several attempts at arranging this walk, the weather gods and all other conditions are favourable. 
Fifteen of us, plus faithful canine pal Pickle, meet at the Parish Church of Elsted a delightful little village on the South Harting to Nyewood road.  After heavy rain at the weekend, a few days of glorious spring sunshine have begun to dry out the sodden and some muddy paths and tracks.  It is always extraordinary, 'though, how some paths are sheltered and well drained and show little sign of the wet conditions. Anyway, enough about the weather, I'm sure we all get fed up with it.
We set off south down the lane with an ever pleasing vista of the South Downs ahead, soon the lane bent to the left and we carry on up the bridleway turning left below Elsted Hanger before turning right and some serious climbing up to the South Downs Way.  We follow the long distance trail past Buriton Farm and climb some more up to Philliswood Down where the SDW takes us left.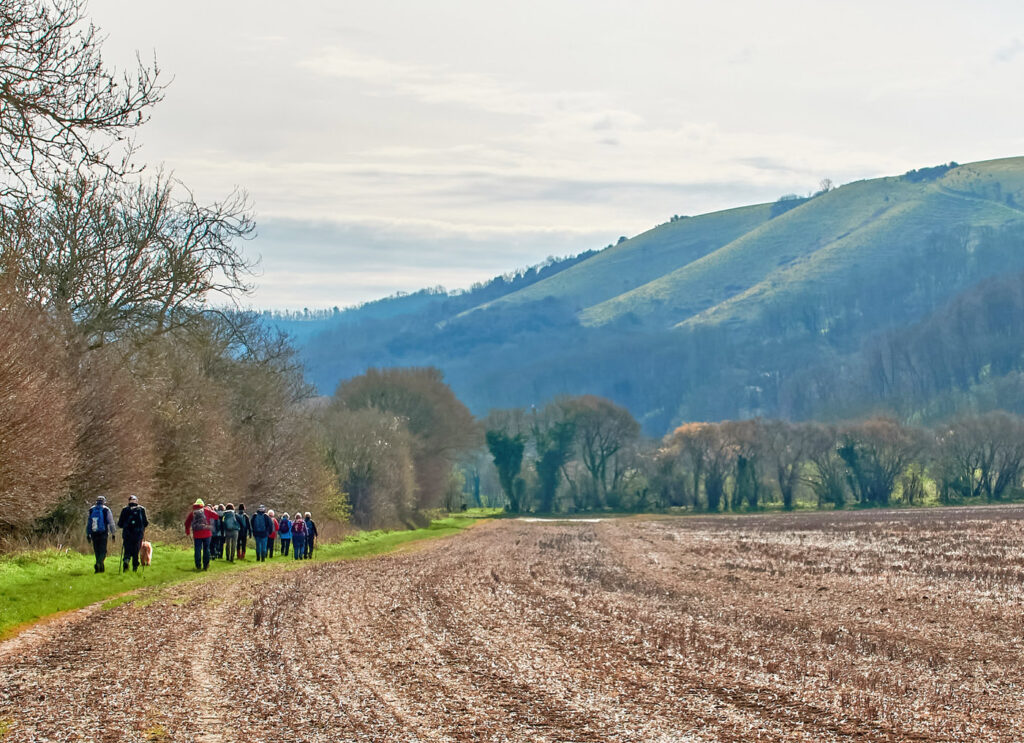 We soon come across the Devil's Jumps.  These are a line of bell barrows, and the site is listed as a Scheduled Ancient Monument and Local Nature Reserve.  Most barrows along the South Downs have been damaged by agriculture and treasure hunters but the Devil's Jumps are considered to be the best preserved Bronze Age barrow group in Sussex. The barrows are laid out in a line running approximately south-east to north-west and the main line of five barrows is aligned with sunset on Midsummer Day.  They make an ideal and timely place to stop for coffee, etc. with splendid views all round.
Pressing on, we continue along SDW before turning left at Didling Hill wending our way down the bridleway an almost concealed footpath to the right which takes us fairly steeply, but dry underfoot through a stretch of woodland before it opens up to a typical downland view. 
We overlook the fields and pastures currently full of lambing ewes.  The area is a veritable birthing hub, and we spot very newly borns tottering about on their spindly legs often chasing their "lost" mothers, and even one having just dropped being cleaned up by a solicitous mum.  There is nothing quite like this scene for confirming that this is indeed Spring in the British countryside.
A little further on we have chance to stop at the dear little shepherd's church of St Andrews.  There are several of these pretty little churches strung out along the South Downs, many in tucked away locations, even in the middle of a field (Coombes Church, near Lancing). St Andrews is tiny, has no electricity and the pews are narrow and upright.  It's great to see that services are still held there once a month. There is no electricity nor, I believe heating, so warm clothing (in the winter) and a hearty and confident hymn-singing voice is required.  We continue and join a lane through Didling village before leaving the metalled road still in a northerly direction. 
We cross the bed of the former Petersfield to Midhurst railway.  We hear there is an initiative to re-instate the bed and make it a cycling/walking trail amenity which would be wonderful. Now we're walking through waterlogged meadows in the Elsted Marsh area – the name says it all, doesn't it?  But we're all well-booted and many are wearing gaiters, so no wet feet.  To the east of Elsted Marsh we cross a lane into Henfield Wood.  Alongside the bridleway are a line of felled tree stumps which provide very accommodating seating for us to stop and have lunch.
Refuelled and refreshed we set off again soon reaching the Fitzhall and its pretty pond. At Bridgelands Farm we turn north again, past Goldrings Warren and across the western edge of Trotton Common. Just before reaching the busy A272 we join the lane where some quiet road walking is necessary. This enables us to avoid paddocks containing overly inquisitive ponies, as well as electric fencing across a footpath, without the required catch to allow safe passage through. At Dumpford village we re-join our route and soon make great strides past South Downs Manor house now a luxury wedding venue. Once more across the bed of the former railway, then we're on the home stretch into Elsted village our path taking us along the church wall back to the carpark.
A delightful walk, with signs of spring everywhere, but probably a little more strenuous than it looks on the map. Well worth the effort.
Author: Val Wood
Photography: Jeremy Bacon & Val Wood