Date:               22 April 2023
Distance:      10 miles
Start:             Whiteways Lodge Roundabout CP
Leader:          Sandy Arpino & Lynne Burge
Petersfield Ramblers visit Bignor Roman Villa
One Saturday in late April a group of Petersfield Ramblers set off on a 10 mile circular walk over the beautiful chalk hills of West Sussex to visit Bignor Roman Villa. Many of the walkers had not seen the villa before, so there was a real air of anticipation.
The venture began in Whiteways Lodge Roundabout car park, 3 miles north of Arundel. We set off at a keen pace, climbing gradually up through woodland, on a defined route strangely named "The Denture". After a couple of miles we briefly joined the South Downs Way, before branching off to the north-east, past prominent mobile towers that marked the peak of our steady ascent. Time for some welcome downhill !
The long descent to the little village of Sutton offered a few obstacles as well as some delightful tracks. We started on exposed chalk, taking care not to slip, before entering an enchanting, leaf-strewn, sunken lane. Unfortunately horses had churned up the wetter patches and it proved impossible to avoid muddy boots – but help was at hand. We soon found ourselves paddling through the waters of a clear, shallow stream which washed away the mud, leaving our boots pristine.    
The village of Sutton was charming with its many thatched houses, converted barns and neat gardens.
But Bignor village – our next port of call – wasn't to be outdone! Its old cottages were every bit as attractive, as was its Norman church, recorded in the Domesday Book.
Crossing arable fields, finally the Bignor Roman Villa site came into sight. It is so superbly set in a dip, surrounded by rolling chalk downs, that it's easy to understand why a wealthy Roman decided to build a villa there. Now you are greeted by modest, low lying, thatched roof buildings encircled by broad expanses of grass. The villa was built around 300 AD and in its final form consisted of around sixty-five rooms surrounding a courtyard, with a number of outlying farm buildings. George Tupper, a farmer, discovered the villa in 1811 when his plough hit a large stone. After excavation, the villa opened to the public in 1814, rapidly becoming a tourist attraction. The rooms on display today contain some of the best Roman mosaics in the UK, in terms of preservation, artistic merit and detailing. Indeed a few of the mosaic floors have required barely any restoration work: they are viewed as they were found.
Refreshed by our rucksack lunches – supplemented by purchases from the site's café – we took our individual tours around the villa, each of us fascinated by different facets. That said, the mosaics hugely impressed us all.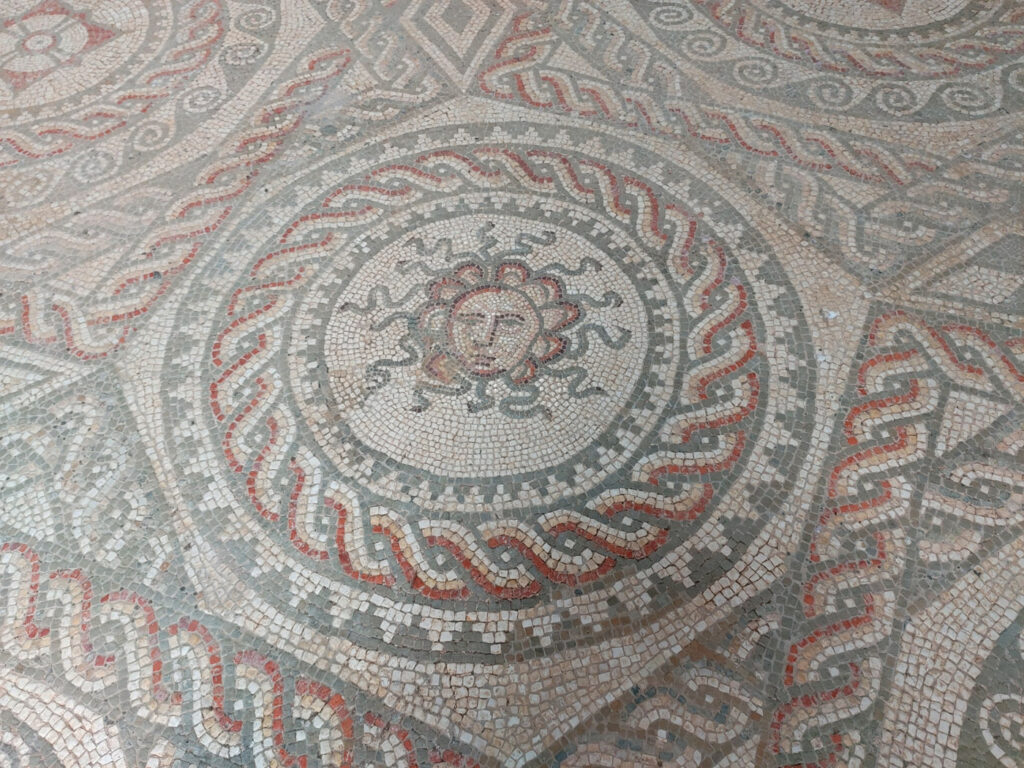 After a thorough look round it was time to make our way back to our cars. Following the flat path of the West Sussex Literary Trail – passing pungent areas of wild garlic and deep-blue English bluebells – we arrived at another picturesque Sussex village: West Burton. Then leaving the country road behind, we turned south, trudging up a very steep incline to regain the top ridge of the South Downs.
On arrival at the car park we were astonished to find more than fifty motorbikes gleaming in the sunshine. This is clearly a meeting point for riders. So we concluded our invigorating day out by enjoying well-earnt tea and cake – amongst the bikers – while one of our members told us tales of her days as a 'biker girl'!
Author & Photographer: Sandy Arpino